Positive Environments, Network of Trainers (PENT) is a California Positive Behavior Initiative designed to provide information and resources for educators striving to achieve high educational outcomes using proactive positive strategies.
Through a connected network of educators throughout the state of California, PENT disseminates information and resources in current best practice, evidence-based research in the area of supporting positive behavior. Additionally, PENT provides opportunities for collaboration and resource sharing between Cadre members.
Our collaborative PENT network is dedicated to increasing academic achievement and overcoming behavioral barriers to success for all students with and without disabilities. PENT strives to provide educators with functional, usable resources in the areas of function-based behavior planning, social emotional learning, mental health, positive behavior supports, and tiered interventions.
All materials can be reproduced for non-commercial purpose for staff training.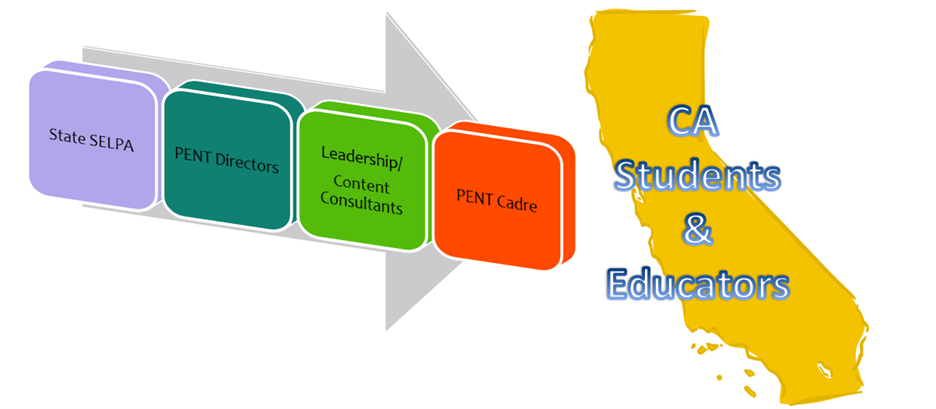 PENT is a joint initiative between the Diagnostic Center, Southern California (DCSC)

and the Special Education Local Plan Area (SELPA)

. As areas of need are identified through collaborative efforts, PENT then disseminates information and content statewide via the PENT Cadre.
Currently, the PENT Cadre consists of School Psychologists, Behavior Specialists/BCBAs, Teachers, PBIS Coaches, and SEL/Mental Health Professionals.
PENT works closely with the SELPA director's Behavior Committee and Content Consultants. The PENT Leadership Team brings together a group of highly skilled professionals and is an integral part of content creation and Forum design and delivery.